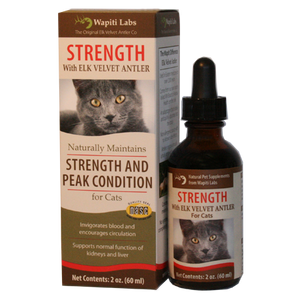 Wapiti Labs Strength Herbal Formula with Elk Velvet Antler for Cats - 2 oz
Naturally helps keep cats in peak condition.
When your cat slows down or seems weak, you can restore warmth and re-establish strength in your companion with Strength formula for cats. This concentrated liquid formula is a natural blend of Elk Velvet Antler and traditional herbs.
Helps maintain normal healthy cartilage and joint function
Invigorates blood and encourages circulation
Supports normal recovery time
Helps keep cats in peak condition
Supports normal function and health of the kidneys and liver