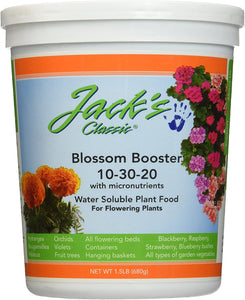 J R Peters Jacks Classic 10-30-20 Blossom Booster Fertilizer-1.5#
Blossom Booster 10-30-20 is a Professional formula designed to produce more flowers and brighter colors on all indoor and outdoor plants

All indoor and outdoor flowering plants like: geraniums, impatiens, begonias and marigolds.

Feeds through both the roots and the leaves

This is the Original Blossom Booster with the proven 1:3:2 nutrient

Great for vegetables and fruit. Can also be used as a transplant solution.